The arrival of the Erie Canal in 1825 put Syracuse on the map. It connected the new village to the range of markets by way of New York City, and created vast and very profitable new markets for the area's salt producers. The Erie Canal was an amazing engineering achievement, not least for the ability to carry the canal through aqueducts across existing creeks. When New York State enlarged the canal in the 1830s, they built a fantastic stone aqueduct across Onondaga Creek. It still stands, now carrying Erie Boulevard across the creek. During recent repairs to the structure, the City of Syracuse gave me access in order to record it photographically, to HABS/HAER standards.
West chamber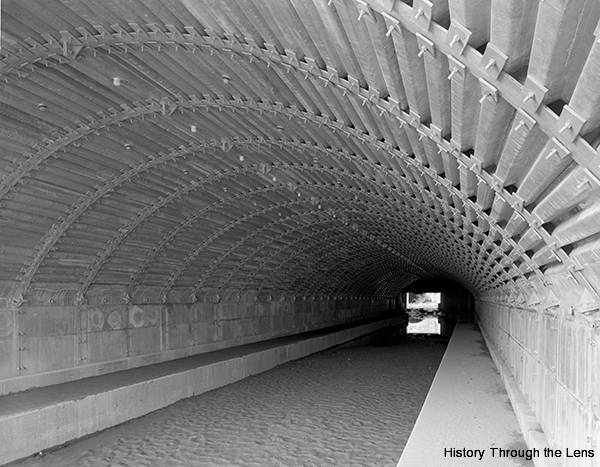 The Erie Canal aqueduct in Syracuse is constructed of stone, and consists of two parallel barrel vaults. Onondaga Creek flows through the east chamber while the west chamber serves as an overflow. A third chamber serves as a bypass chamber, veering off through the east wall upstream of the aqueduct, and emptying back into Onondaga Creek downstream of the aqueduct.
In 1907, when the Canal still made its way through the city, the aqueduct was the setting for a catastrophe. An adjacent flour mill collapsed, sending a brick wall into the canal followed by barrels of flour. The falling bricks and barrels then punched a hole in the barrel vault of the west chamber. This hole then allowed the canal's water to drain through. The emptying waters carried with it many canal boats, which became stuck in the new drain. Fortunately, no one was killed, but the damage to the Canal and to Syracuse's commercial life was extensive.
As Sean Kirst has written in the Syracuse Post-Standard, the state began repairs immediately. The boats that were wedged into the hole in the canal floor were burned in order to remove them. The hole in the barrel vault of the west chamber was patched with concrete and reinforcing steel.
This patch served its purpose for more than a century. In recent years, however, the aqueduct showed signs of structural weakness, and the City of Syracuse began repairs in 2014. In the course of repairs, the City intends to cover over the 1907 patch, the only remaining evidence of the great catastrophe. It seemed important to record the last vestiges of this event. My photograph of the west chamber was taken with the very low light that was available, but still shows the line in the roof of the barrel vault where the patch was still visible; by now, it has been covered over.
I'd like to thank both the City of Syracuse for allowing me access to this fantastic artifact of the Erie Canal in downtown Syracuse, and Sean Kirst for pointing out this gem.
If you would like to comment on this post, please feel free to send me an email: bgharvey@me.com. I'd love to hear from you!