Borodino is a tiny community along the east side of Skaneateles Lake, one of the Finger Lakes in central NY.  Several terrific 19th century buildings remain in Borodino, located at the intersection of Rt. 41 and Rose Hill Road. I had the chance to photograph this former Grange Hall according to HABS/HAER standards in July 2015, in support of a capital campaign to assist with the building's stabilization and conversion for use as a community center.
Borodino Grange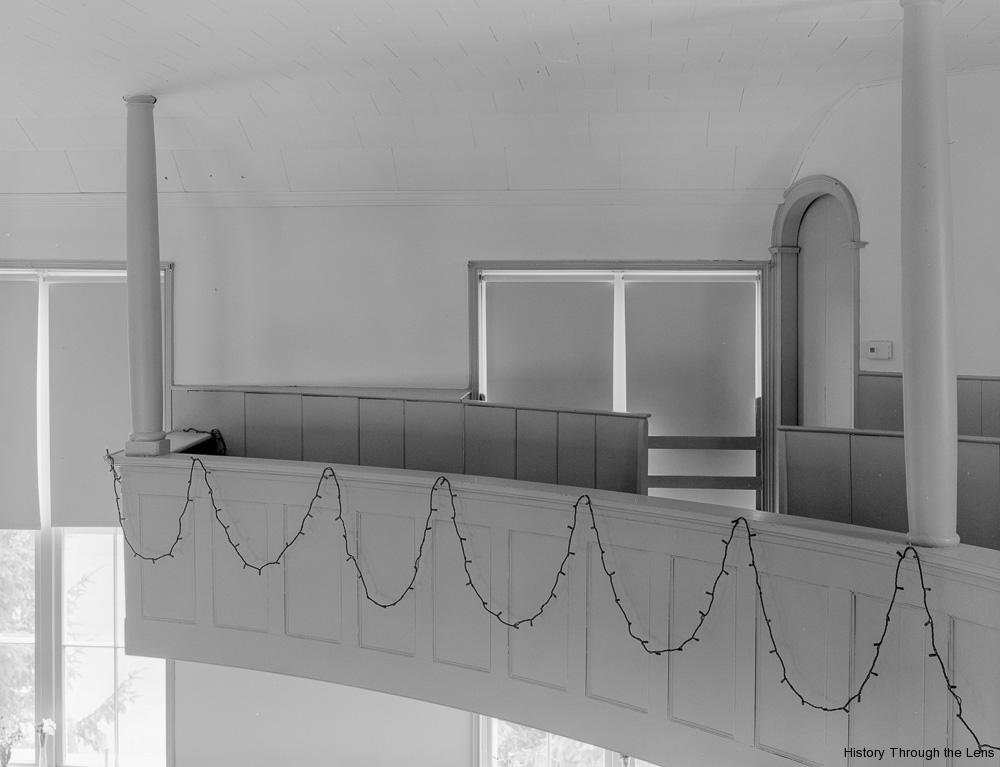 The hall was built in approximately 1835 as the First Religious Society of Borodino The ground slopes away to the side and the rear, and the timber frame building rests upon a raised limestone foundation. The building is an odd mixture of styles, showing very late references to the Federal style with the pilasters framing the central entrance, but with a Greek Revival style entrance and heavy pedimented portico.
The building remained a church until 1868, when it was sold and became a hall. The interior was changed at that time, creating a stage on the wall opposite the entrance. The building later became the Spafford Town Hall, and in 1912 it began serving as the meeting place for Grange no. 1272; the Grange purchased the building in 1919.
The most distinctive and fascinating  feature of the building is the balcony, which encircles the entrance end of the building and curves around to the sides. Rather than being square, however, the balcony is curved, and fits into a curved rear wall that forms the vestibule between the entrance and the open hall. Adding to the fascination is the support. The balcony is cantilevered out from the wall, rather than supported from below by columns or pillars. There are, however, fascinating columns which rise from the balcony rail to the coved ceiling which were built with an exaggerated entasis, or swelling in the center.
The former Borodino Grange Hall is now owned by the Spafford Area Historical Society, which operates it as a community center, a most fitting use for this incredible historic building.