The City of Syracuse has relatively few Gothic Revival houses. We have plenty of Gothic Revival churches, of course, but so few houses. The house which I've included here is one of the rare survivals. Unfortunately, it too is on its last legs. Abandoned for many years, it now is in the hands of the Greater Syracuse Land Bank. In both 2010 and in 2014, I had the chance to take a series of large-format photographs of the building, both interiors and exteriors. I did this on a volunteer basis according to HABS/HAER standards, with the negatives to be offered to the Onondaga Historical Association.
Exterior oblique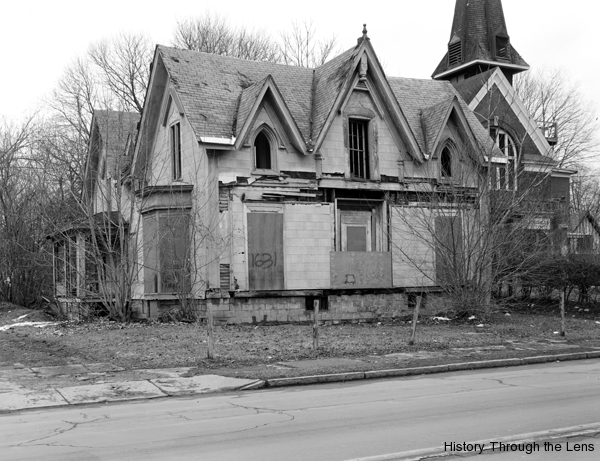 The house is located at 1631 South Salina Street in Syracuse, about 8 blocks south of the downtown area. It is in what was originally known as the Village of Danforth, which was annexed to the neighboring Syracuse in 1887 as the eleventh ward. This house, however, likely was built in the early 1850s, before the Village of Danforth was incorporated. The City of Syracuse has identified the house as a Historic Landmark, and it is a contributing element in the South Salina Street Historic District, which is listed on the National Register.
The earliest image of the house dates from approximately 1913. While recognizable in its general outlines, particularly the three symmetrical steeply pitched dormers rising from the front eaves, the richness of details that have been lost is heartbreaking. The house originally featured a full-width front porch, with a projecting central section which provided a balcony off of the center 2nd story window, and lower flat-roof sections on either side. The taller center dormer had lush verge boards, while the spandrels of the porch featured lacy fret work.
The Greater Syracuse Land Bank has now acquired the house. We can all hope that the Land Bank is successful in finding a buyer for this beautiful, if sad, house.
For more information on the house and the neighborhood, see:
http://www.edrcompanies.com/pdf/featured_projects/DHS-Report.pdf
http://syracusethenandnow.org/Nghbrhds/S_Salina/GothicCottage.htm
I'd love to hear from you! Please feel free to contact me directly with any comments or questions: bgharvey@me.com