The Old Town Canoe Company was established in 1898, and by 1900 had moved into the former Keith Shoe Company factory in downtown Old Town, ME, near the banks of the Penobscot River. The company remained in that building, to which they added many others over the years, until 2009 when they moved to a new factory in Old Town, leaving behind a mostly empty complex of buildings. The Town of Old Town bought the property in late 2011, and in 2012 made the decision to demolish it. In consultation with the Maine Historic Preservation Commission, the Town agreed to have the building documented for the Maine Historic Buildings Record, according to HABS/HAER standards.
Early in 2013, my colleague Amy Cole Ives, President of Sutherland Conservation and Consulting, approached me about teaming with her on a proposal to carry out the documentation of the former factory complex for the Maine Historic Building Record. We were fortunate to win the bid and in mid-March I bundled up my gear for the long drive to Old Town.
Building 1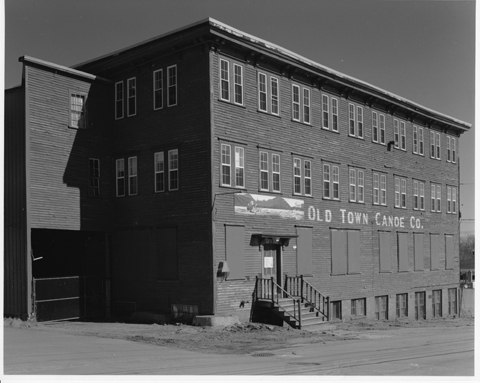 Documentation
The Old Town factory presented several challenges as a photographic project, beyond trying to take photographs near the Penobscot River in Maine in Maine. First, it is a particularly ungainly complex of buildings, as new wings were built onto older sections with abandon, with little regard to the niceties of trying to match the levels of the floors. Paraphrasing Harriet Beecher Stowe, the factory just grow'd like Topsy. One of the goals, therefore, was to show the junctions of the various building components, of which there were many.
Another challenge was the layout of many of the buildings, which was extraordinarily linear. The principal section of the factory, Building 4, is a very long, very narrow building. Trying to capture that extreme linearity was difficult, but necessary; it is a real hallmark of the factory.
Finally, perhaps the most distinctive aspect of the factory was the general absence of stairs between the floors. Since the canoes and kayaks had to be moved up and down between various floors, stairs presented a great obstacle. Instead, the floors were joined by ramps. Given low ceilings and long, narrow spaces, however, it was a challenge to show these ramps, and how they connected the different floors, in the photographs.
In the end, though, despite the cold and the challenges that the factory posed, it was a successful venture. Amy Cole Ives and her staff produced a terrific historic narrative, and I was very pleased with the photographs. I've included a small sample of those I used in the Maine Historic Building Record documentation package, which was approved by the Maine Historic Preservation Commission.
If you would like to comment on this post, please feel free to send me an email: bgharvey@me.com. I'd love to hear from you!